Informatie en beschrijving: Appartamenti in Agriturismo in de buurt Firenze in Toscana, Montaione
---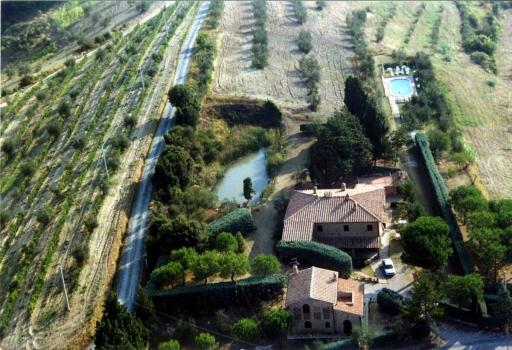 Afbeeldingen
Informatie en beschrijving
Positie: Montaione 1807, een oude boerderij gebouwd in 1891, is gelegen in de prachtige achtergrond van de heuvels van Chianti, tussen Florence, Siena en Pisa (op de weg naar Sughera en Tonda, plaatsen van internationale faam in het toeristische context).
De boerderij, in het kader van de binnenlandse tenancy, heeft zijn naam omdat van een oude...
bakstenen oven, die aangeeft het laatste voorbeeld in de buurt van de manier waarop bakstenen, die werkzaam zijn in de gebouwen van typisch 19e Florentine huisjes, werden geproduceerd.
De boerderij: liefdevol gerestaureerd tot zijn oorspronkelijke pracht, het is de juiste keuze voor mensen die willen een romantische en ontspannen vakantie door te brengen, in een rustige sfeer, omringd door alle comfort en plezier.
Montaione 1807 biedt gastvrijheid met haar zes grote appartementen mooi ingericht en caratterizzata door onafhankelijke ingang, gewelfde dak, warm open haarden, oude stenen muren, prachtige portieken en voorzien van gebieden van groen.
Omgeving: in een paar minuten met de auto van de boerderij vindt u San Gimignano en Volterra, twee van de bramen belangrijke en suggestieve steden van Toscane en in een uur je aankomt bij Florence, Siena en Pisa.
Montaione 1807 ligt op een panoramische locatie in de buurt van de mooiste, suggestieve en betoverende plaatsen van de kunst van de wereld en het zal bieden aan onze gasten onvergetelijke momenten van plezier.
Afstand van de belangrijkste diensten Tennis: 0.
5km Castelfalfi Golf: 9km Riding School: 1.
5km Minimarkt: 1km Supermarkt: 7km Shopping Centre Castelfiorentino: 16km Ziekenhuis: 18km Afstand van de belangrijkste steden San Gimignano: 19km Volterra: 27km Pisa: 50km Siena: 55km Florence: 55km Water: 60km Galileo Galilei luchthaven van Pisa: 50 km.
Controleer de beschikbaarheid : Select accommodation
Select dates

Select accommodation

Enter personal data

Enter payment data
1

2

3


Opgelet: er is een fout opgetreden!
Hier boeken Montaione 1807
ATTENTION: within 5 seconds, you will be forwarded to a secure server to complete the booking procedure
Click here to immediately proceed with the booking

5
All accommodation
YOKE - Appartement in villa - ongeveer 58 - 2 2 pax. Mooi en typisch appartement, twee kamers, begane grond, 58 m². Wide eetkamer met ingerichte keuken gescheiden door een grote boog van de...

2 kamer appartement

4 personen
4 - 7 Min. stay

ARCO - Appartement in villa - 38 m² - 2 pax. Mooi appartement, een kamer, begane grond, 38m². Woonkamer met open haard, TV, fauteuils en een tweepersoons bed. Uitgeruste keuken. Badkamer...

1-kamerappartement

2 personen
4 - 7 Min. stay

FOCOLARE - APPARTEMENT IN VILLA - 80 mq - 6 1 (1) pax. Flat, eerste plaats met toegang via interne trap. Keuken met grote typische 19e open haard, woonkamer, badkamer met douche, twee grote...

appartement

7 personen
4 - 7 Min. stay

POND - Appartement in villa - 80 vierkante meter - 4 2 (2) pax. Flat, begane grond met een mooie veranda om te lunchen buiten het omringende landschap bewonderen. Keuken met typisch 19e open...

APPARTEMENT IN BIJLAGE - 45 m². - 3 pax Prachtige flat, eerste verdieping met ingang via binnentrap, gelegen in de prachtige schuur, in de voorkant van Villa (15 meter); eet- woonkamer met...

appartement

3 personen
4 - 7 Min. stay

APPARTEMENT IN BIJLAGE - 70 vierkante meter - 4 (2) pax Prachtige flat, begane grond, gelegen in de prachtige schuur, in de voorkant van de Villa (15 meter); Wide eetkamer (30m²) met open...
Fotogalerij
Accommodatievoorzieningen
Algemene diensten:

Zwembad

Parkeerterrein

Satelliet-tv

Speelruimte voor kinderen

Buitenverlichting

Barbecue

Eindschoonmaak

Dagelijkse schoonmaak

Fietsen beschikbaar

Cateringdiensten:

Huisgemaakte gerechten

Sportdiensten:

Wandeltochten

Overige dienstverlening:

Groepsaccommodatie

Winkelen

Wijnreizen

Diensten buiten:

Fietsverhuur

Paardrijden

Tennis

Golf

Vissen

Vijf-tegen-vijf voetbalveld

Bus - Tram

Treinstation

Meer

Ziekenhuis

Apotheek / drogist

Stadscentrum

Bar - Café

Outlet-winkel

Supermarkt

Winkelcentrum

Kledingwinkels

Restaurant-pizzeria

Eten

Trainingen:

Italiaanse taalcursussen

Kooklessen

Paardrijlessen
Diensten en de nabijgelegen

plaatsen
1 Km. Eten

1 Km. Restaurant-pizzeria

1 Km. Bar - Café

2 Km. Paardrijden

2 Km. Tennis

3 Km. Golf

6 Km. Vissen
Algemene Voorwaarden
Regels
Aankomsttijd: van 14:00 - tot 20:00
Vertrektijd: U moet de kamers verlaten voor 10:00
In geval van aankomst na de verwachte aankomsttijd vragen wij u vriendelijk om dit zo snel mogelijk te laten weten.
Aanbetaling
De boeking vereist een aanbetaling van 30%
Betalingswijze aanvaard: Banktransactie - Creditcard
Creditcards worden geaccepteerd: