Informatie en beschrijving: in de buurt Lucca in Toscana, Gallicano
---
8.8
" Amazing setting with wonderful owners who are incredibly helpful and welcoming. "
18 Beoordelingen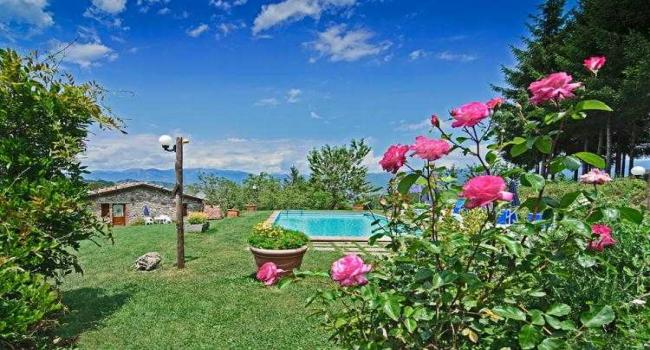 Afbeeldingen
Hotel
classificatie
Typische producten

Bruiloftplanning
Informatie en beschrijving
Locatie: Farm "3 aren".
de vallei Serchio met de Apennijnen en de Apuaanse antipersoneelmijnen rond: Als je hier aankomt, kunt u de speciale uitzicht voor je veify.
Aan de ene kant de Pania della Croce en de Pania Secca geven je een speciaal frame.
Ze domineren het dorpje Vergemoli en ze geven je fantastisch zonsondergangen.
Aan de andere kant...
Barga, gedomineerd door de Apennijnen en de sneeuw zorgt voor een onwerkelijke omtrek.
De heuvel, waar de boerderij ligt was de oudste oorspronkelijke positie van Verni.
Een grote aardverschuiving of een aardbeving verwoest bramen dan 200 jaar geleden.
Positie: Gallicano 1681 ligt op 500 meter boven de zeespiegel; op de top van de "Piazza hill", op de hoofdweg naar Trassilico maar het is ondergedompeld in de velden en kastanjes bomen, ongeveer 600 mt ar van het dorp Verni.
Ongeveer 5 km ver van Gallicano (10 minuten) met de auto, waar u alle diensten en winkels die u nodig hebt te vinden.
De positie van de boerderij is strategisch, omdat het de halverwege tussen Lucca (1 uur met de auto) en de hoge kant van de Garfagnana.
Garfagnana is een klein paradijs, dat je moet ontdekken, als je houdt van natuur, ontspanning en avontuur.
Garfagnana: Pania della Croce, M.
geboord, M.
Matanna, M.
Sumbra, en de meest beroemde toppen van Appennines: gebied Garfagnana heeft veel bossen, waar u kunt lopen naar de ontdekking van de Apuaanse Apls Met Hun toppen kreeg.
U kunt dwalen door middeleeuwse dorpjes en je kunt ze zien als in een oude film.
Alle is hetzelfde als in het verleden, waarbij industrie en handel niet kunnen overleven.
Wat te bezoeken: Ongeveer 20 minuten ver van de boerderij kunt u de legendarische "Wild cave", waar fans van speleologie of normale toeristen kunnen Adventur in het hart van de berg, om alles wat de natuur kan creëren bewonderen bezoeken.
In de zomer kunnen de gasten groenten gebruiken uit onze tuin, in oktober plukken we kastanjes, kunnen de gasten als bij ons om deel te nemen aan de voorbereiding van de "Metato" (de plaats waar we kastanjes te drogen en om bloem te maken) en nog veel meer -over ze kunnen proeven van onze typische producten en gerechten.
Accommodatie: De boerderij heeft 3 appartementen terug uit de oude stallen die mijn grootouders in het verleden te krijgen.
Appartementen zijn ingericht met een zeer eenvoudige stijl, vergelijkbaar met de traditionele huizen in het verleden.
Hier kunt u proberen een oude manier van leven in de moderne tijd, zonder tecnologies.
Het heeft ingerichte keuken, badkamer met douche en slaapkamers.
De appartementen zijn onafhankelijke en alle van hen hebben een eigen diensten en verwarming.
Controleer de beschikbaarheid : Select accommodation
Select dates

Select accommodation

Enter personal data

Enter payment data
1

2

3


Opgelet: er is een fout opgetreden!
Hier boeken Gallicano 1681
ATTENTION: within 5 seconds, you will be forwarded to a secure server to complete the booking procedure
Click here to immediately proceed with the booking

5
All accommodation
Tilde Het appartement is gelegen op de eerste verdieping van de grote stal. U vindt: een slaapkamer met tweepersoonsbed (u kunt een enkel zip-bed in de keuken of in de slaapkamer). Het is heel...

Aldo Het appartement voor 6 personen bevindt zich op de begane grond van de grote stal. U vindt: twee slaapkamers met dubbel bed, een slaapkamer met toren-bed, badkamer en keuken (u kunt een...

appartement

7 personen
1 - 7 Min. stay

Orlando appartement voor 4 personen is alleen gelegen in de voorkant van de andere appartementen oor het zwembad. U vindt: een slaapkamer met tweepersoonsbed (u kunt een enkel zip-bed zetten),...

appartement

5 personen
1 - 7 Min. stay

Appartement - 43 m² (2 1 Bedden) tweepersoonsbed, kinderbed / bed, badkamer, keuken, TV

Appartement - 35 m² (2 bedden 1) tweepersoonsbed, kinderbed / bed, badkamer, keuken, TV
Fotogalerij
Informatie
Accommodatievoorzieningen
Algemene diensten:

Eigenaar aanwezig

Zwembad

Parkeerterrein

Speelruimte voor kinderen

Buitenverlichting

Barbecue

Receptie

Eindschoonmaak

Fietsen beschikbaar

Cateringdiensten:

Restaurant

Huisgemaakte gerechten

Sportdiensten:

Wandeltochten

Tafeltennis

Vijf-tegen-vijf voetbalveld

Overige dienstverlening:

Groepsaccommodatie

Ceremonies en recepties

Diensten buiten:

Fietsverhuur

Bar - Café

Restaurant-pizzeria

Tennis

Vissen

Bus - Tram

Treinstation

Meer

Ziekenhuis

Apotheek / drogist

Stadscentrum

Supermarkt

Winkelcentrum

Kledingwinkels

Eten

Berg
Diensten en de nabijgelegen

plaatsen
1 Km. Stadscentrum

6 Km. Kledingwinkels

6 Km. Tennis

6 Km. Winkelcentrum

6 Km. Supermarkt

6 Km. Bus - Tram

6 Km. Eten
Algemene Voorwaarden
Regels
Aankomsttijd: van 15:00 - tot 19:00
Vertrektijd: U moet de kamers verlaten voor 10:00
In geval van aankomst na de verwachte aankomsttijd vragen wij u vriendelijk om dit zo snel mogelijk te laten weten.
Aanbetaling
De boeking vereist een aanbetaling van 30%
Betalingswijze aanvaard: Banktransactie - Creditcard
Creditcards worden geaccepteerd: